Check out Google's Valentine's day logo.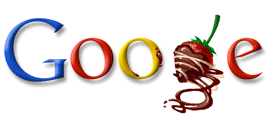 If my wife had a pet name for me I definitely wouldn't tell millions of people. Way to let it slip Big G.
Is this a misspelling or an attempt to be cute with a pet name?
I'm not sure if the strawberry stem is meant to represent the "L" or not.